Web Design For Businesses In Georgia
If you run a business in Georgia, you need a website that gets results. For more than 15 years, we're the web design agency business owners trust.
Your Website Shouldn't Just Sit There. It Should Convert
Running a business means you wear a lot of hats. Web designer usually isn't one of them. While it's great to be knowledgeable about digital marketing, it's hard to have an objective view. That's where the professional web designers at Make It Loud can help.
For more than 15 years, we've been working with business owners just like you to develop a professional online presence. We're not happy with simply building a website. We want to help you develop a marketing machine that accomplishes your goals- from getting in front of new prospects to converting the website visitors to paying customers.
It's a simple fact that bad websites chase customers straight into the arms of your competitors. No business can afford that. Outdated or old websites do exactly that. We will give you honest, direct feedback about the effectiveness of your website- because this is your livelihood. While we have fun doing it, we take our jobs seriously, and our job is to put more money in your pocket. It's as simple as that. We're not successful until you are.
Our Digital Marketing Services
Logo Design
Your logo sets the tone and color palette for your branding and all your marketing. Let us help you get the proper recognition with a logo that strikes the right note with your customers.
Social Media Advertising
Social media advertising  (i.e. Facebook advertising, etc.) helps you target specific clients and puts your business in front of your future customers. Let us help you use this marketing element to grow.
Conversion Optimization
Bringing more people to your website is great, but turning them into paying customers is about conversion. With A/B testing & other tools, we can help you get more business from your website.
Website Design
Your site is your digital front door. Having a great site is the centerpiece for all your digital marketing. We build conversion-friendly websites for your business. Don't settle. Let us help with your web design.
Google Adwords Campaigns
An Adwords or Pay Per Click (PPC) campaign is the fastest way to put your business on the first page of Google. This data-driven marketing element may be just the thing to increase your revenue.
Identify Your Website Visitors
No matter how great your website is, there are still valid prospects who leave. We have the ability to identify the companies that visit your site and put these leads into your sales funnel. Find out exactly how much revenue you've been missing.
Search Engine Optimization
SEO brings people to your site who are specifically looking for your products and services. We can bring targeted traffic to your website with well-written content as part of our SEO.
Reputation Management
Managing the reputation of your business is vital for your local visibility, getting more customers and more. Let us help you set up a system for getting & managing more reviews.
Print Services
Starting a new business or rebranding means new business cards and more. We'll design your cards, postcards, brochures or more. Let us handle all your design needs.
Does Your Website Suck?
Sometimes we can't see things clearly because we're too close. Over the years, we've seen this a lot with various websites. 
Don't be that company with an ugly website. You know. It's the website that all the sales staff are too embarrassed to send customers to. Let us give you a free website review. We'll be honest (and kind). After all, your website isn't about your feelings. It's about your livelihood.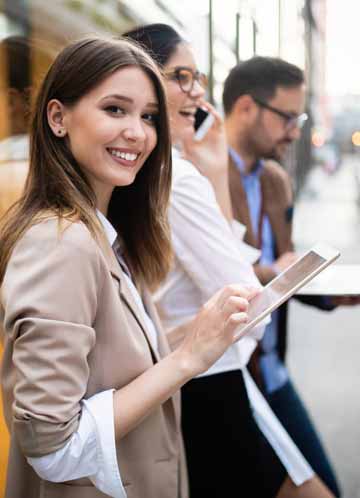 Digital Marketing Strategies
Staying competitive online can be tough. Things change rapidly. Simply having a website isn't enough. That's where your business needs a comprehensive strategy to be successful. Since 2004, we've been staying current with trends and we've learned what works. Let us help you develop a winning strategy.
Every business needs more- more leads, more phone calls, and more money! Our goal at Make It Loud is to broadcast your business to the world as LOUD as possible through the power of the internet. When it comes to digital marketing, we work with you to help determine what makes the most sense and will bring you results.
Having a great website is a great start, but digital marketing involves so much more than that. With SEO, PPC, Social Media Marketing and more, we can help you identify the right tools for marketing your company.
Data-Driven Digital Marketing
Is your digital marketing helping your business make money? If not, it's time you reconsider ways to turn that around. We're firm believers that your digital marketing should show a return on your investment. Let us show you how. 
Some say that all marketing is like a trip to a casino. It's possible to make money but the odds aren't in your favor. It shouldn't be this way. We help business owners invest in their business and get something out of that investment. 
We work hard to help our clients find the right marketing tools to increase their business. It's our passion. We're not successful until you are. Call us and let's set up an appointment.
Our Georgia Service Area 
In all the years we've been in business, we've had the privilege to work with businesses all around the country. That being said, most of our business comes from around Atlanta, but we have happy customers throughout Georgia in Alpharetta, Athens, Atlanta, Auburn, Augusta, Berkeley Lake, Braselton, Brookhaven, Buckhead, Buford, Commerce, Cumming, Dacula, Duluth GA, Dunwoody, Flowery Branch, Gainesville, Grayson, Hoschton, Johns Creek, Lawrenceville, Lilburn, Loganville, Macon, Marietta, Norcross, Oakwood, Peachtree Corners, Roswell, Sandy Springs, Savannah, Snellville, Statham, Stone Mountain, Sugar Hill, Suwanee, and Winder.
If you're ready to get your business more- more clicks, more leads, and more business call the staff at Make It Loud and let's talk about the right digital marketing strategies for your business.
Address:

2828 Buford Dr #300, Buford, GA 30519
 Office Hours:
Monday – Friday OPEN 9:00 AM – 5:00 PM
Saturday and Sunday CLOSED