Digital Marketing That Gives You More
Having a great website is just a start. We put your business in front of more customers with SEO, Google Ads, Facebook Ads, and more. 
Digital Marketing Services
Website Design
Your website is the digital front door of your business. If you don't make the right impression, your website could be driving customers to your competitors. We can help. Let us build a website that's right for you.
Read More
We specialize in providing affordable websites for small to mid-sized businesses that not only look good but help turn browsers into customers. Isn't that what it's really all about? Let us give you the tools you need to get more business. Call us when you're ready for more.
SEO
Being seen on the first page of Google means one thing- more business. If you have a great website, we can help you get your business seen. More views means more clicks which can mean more money.
Read More
There are a lot of SEO firms out there. What makes us different is that we have writers on staff who will create targeted landing pages for your site to help you be seen in the geographical areas you want customers. Let us help you bring more targeted traffic to your business. Call us and let's talk about what it will take to get your site to page one of the search engines.
Social Media Marketing
Social media is a great way to get your business in front of more people and social media advertising can drive people to your digital front door. Let us help you develop an effective social media marketing strategy.
Read More
More than 70% of all Americans have a social media account. Three-quarters of social media users access their accounts on a daily basis. In 2015, Facebook influenced 52% of consumers' online and offline purchases. Let us help you supercharge your social media marketing.
Google Ad Campaigns
Google Adwords or Pay Per Click Campaigns (PPC) can be a fast way to put your business on page one of Google. Our Google Certified, expert staff can help you decide if Adwords is an effective solution. for you.
Read More
Call us and let's schedule an appointment to talk more about setting up an Adwords Campaign.
Reputation Management
What are people saying about your business on Google? Your reviews not only increase your visibility, but they can help you get more customers. We have a platform that allows you to manage your reviews and even send texts and emails to remind people to give you a review.
Read More
Don't ignore this critical aspect of your business. Let us help you with reputation management today.
Conversion Rate Optimization
When it comes to getting more business, you can bring more traffic to your site or you can convert more visitors to paying customers. This is about conversion rate optimization. From heatmaps to A/B testing, we can help you get more out of your website. Call to find out more.
Read More
Call us today to talk about how conversion rate optimization can help grow your business.
who Is On Your Website?
Many websites only get phone calls or contact forms from roughly 2% of visitors. What if we had a way of telling you who the other 98% of your website visitors are? Traffic Scout can put your website visitors into your sales funnel and close the gap on the business you've been missing.
Read More
Schedule an appointment with us today to talk about how to identify your missing revenue.
Printing & Digital Services
Need business cards, post cards or brochures? We provide affordable printing services that can help you further brand your business. Sometimes your business needs supportive materials for conferences or special events. We can help with all aspects of your branding.
Read More
Let our staff help make your business look great at your next big event.
Visit Us In Our Storefront!
 Operating in a store front for eight years and being open for over fifteen, we have been visited by many companies for consultations. All of them have one thing in common – they want success on the web and want their phone to ring from their digital marketing. That's Make It Loud's goal – to help you as a business owner provide for your business, family, and employees.
As our customer, we make sure to cater to your needs, being truthful about what you can expect from a solid digital marketing strategy, and helping you to understand where to invest your hard earned marketing dollars, and where not to. We offer services in Web design, Search Engine Optimization, Social Media Marketing, and More!
RELATIONSHIP, EXPERIENCE, TECHNOLOGY – AND ACCESSIBLE TO YOU!
We're Different. Here's How:
We're Available & Present
Many of the people that visit us have had negative experiences with digital markers. A large majority have spent money only to have the web designer disappear. We have a storefront so that people know where to find us. Beyond that, we are committed to doing what's right for our clients. Always.
We Build Great Relationships
We still have our very first client from 15 years ago, and our clients become a part of our Make It Loud family. We want our friends to win, and we work to that end constantly. In fact, we're very clear that we're not successful until you are!
We Know Digital Marketing
(So you don't have to!) It's so much to absorb, and we free you up to go and do what you do best – make money for your company, family, and employees. Results are what this is about, so we take that very seriously.
We Will Give You the Truth.
Your digital marketing is about your livelihood. That's why you need people that will always tell you the truth. We have more than once turned away potential clients that had ideas we didn't see as realistic. We simply won't waste your time or your money on things we don't think will work.
Our Work Means More Business For You!
When it comes to your business, the staff at Make It Loud understands that you want to generate more revenue. We work with you to identify specific ways we can help you bring so much more to your business. When it comes to digital marketing, we work with you to help determine what makes the most sense and will bring you results.
Having a great website is essential, but digital marketing involves so much more than that. With SEO, PPC, Social Media Marketing and more, we can help you identify the right tools for marketing your company. We'll even do a free website or social media analysis for you. Feel free to visit us at our storefront location in Buford Georgia, but we provide web design and digital marketing for clients all over Atlanta including Lawrenceville, Suwanee, Johns Creek, Alpharetta, Braselton, and other areas of the country!
AWARD WINNING WEB DESIGN & DIGITAL MARKETING FIRM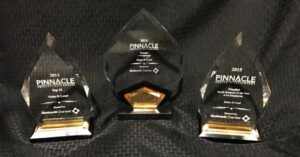 On our 10 Year Anniversary year, Make It Loud was given the Pinnacle Award and Small Business of the Year Award for 1-9 employees, by the Gwinnett Chamber of Commerce!
Make It Loud is honored to do business in Gwinnett County as well as all around the country, and we want to thank all of our clients for 15 wonderful years serving the Gwinnett community, as well as all of its staff, past and present, for all of their hard work.
We're grateful to be the recipients of the Pinnacle Awards as well as all our other nominations! It's validation that doing right by your customers is just the right thing to do. We appreciate the Gwinnett Chamber of Commerce for honoring us with this award, and for supporting our business every step of the way!
Serving Our Local Communities!
Make It Loud has been serving small businesses all over the Atlanta area, and around the United States for more than 15 years.  We'd be honored to help you with your digital marketing strategy.  We serve all the towns in the Atlanta Metro area.  Reach out and give us a call!
Our Georgia Service Area
In all the years we've been in business, we've had the privilege to work with businesses all around the country. That being said, most of our business comes from around Atlanta, but we have happy customers throughout Georgia in Alpharetta, Athens, Atlanta, Auburn, Augusta, Berkeley Lake, Braselton, Brookhaven, Buckhead, Buford, Commerce, Cumming, Dacula, Duluth GA, Dunwoody, Flowery Branch, Gainesville, Grayson, Hoschton, Johns Creek, Lawrenceville, Lilburn, Loganville, Macon, Marietta, Norcross, Oakwood, Peachtree Corners, Roswell, Sandy Springs, Savannah, Snellville, Statham, Stone Mountain, Sugar Hill, Suwanee, and Winder.
If you're ready to get your business more- more clicks, more leads, and more business call the staff at Make It Loud and let's talk about the right digital marketing strategies for your business.
 

Address:

2828 Buford Dr #300, Buford, GA 30519
  Office Hours:
Monday - Friday OPEN 9:00 AM - 5:00 PM
Saturday and Sunday CLOSED
We Serve The South Eastern Region of the United States
Resources
[widgets_on_pages id="1"]