Digital Marketing That Gives You More
WE ARE STILL MEETING WITH CLIENTS!
SCHEDULE A FREE CONSULTATION WITH US TODAY. VISIT US WHEN THIS IS ALL OVER AT OUR STOREFRONT!
2828 Buford Dr. Suite 300 Buford, GA 30519
DIGITAL MARKETING SERVICES
WEBSITE DESIGN
Your website is the digital front door of your business. If you don't make the right impression, your website could be driving customers to your competitors. We can help. Let us build a website that's right for you.
SEO
Being seen on the first page of Google means one thing- more business. If you have a great website, we can help you get your business seen. More views means more clicks which can mean more money..
SOCIAL MEDIA MARKETING
Social media is a great way to get your business in front of more people and social media advertising can drive people to your digital front door. Let us help you develop an effective social media marketing strategy.
PAY PER CLICK CAMPAIGNS
Google Adwords or Pay Per Click Campaigns (PPC) can be a fast way to put your business on page one of Google. Our Google Certified, expert staff can help you decide if Adwords is an effective solution. for you.
REPUTATION MANAGEMENT
What are people saying about your business on Google? Your reviews not only increase your visibility, but they can help you get more customers. We have a platform that allows you to manage your reviews and even send texts and emails to remind people to give you a review.
CONVERSION RATE OPTIMIZATION
When it comes to getting more business, you can bring more traffic to your site or you can convert more visitors to paying customers. This is about conversion rate optimization. From heatmaps to A/B testing, we can help you get more out of your website. Call to find out more.
WHO IS ON YOUR WEBSITE?
Many websites only get phone calls or contact forms from roughly 2% of visitors. What if we had a way of telling you who the other 98% of your website visitors are? Traffic Scout can put your website visitors into your sales funnel and close the gap on the business you've been missing.
PRINTING & DIGITAL SERVICES
Need business cards, post cards or brochures? We provide affordable printing services that can help you further brand your business. Sometimes your business needs supportive materials for conferences or special events. We can help with all aspects of your branding.
VISIT US IN OUR STOREFRONT!

Operating in a store front for eight years and being open for over fifteen, we have been visited by many companies for consultations. All of them have one thing in common – they want success on the web and want their phone to ring from their digital marketing. That's Make It Loud's goal – to help you as a business owner provide for your business, family, and employees.
As our customer, we make sure to cater to your needs, being truthful about what you can expect from a solid digital marketing strategy, and helping you to understand where to invest your hard earned marketing dollars, and where not to. We offer services in Web design, Search Engine Optimization, Social Media Marketing, and More!
RELATIONSHIP, EXPERIENCE, TECHNOLOGY – AND ACCESSIBLE TO YOU!
We're Different. Here's How:
WE'RE AVAILABLE & PRESENT
Many of the people that visit us have had negative experiences with digital markers. A large majority have spent money only to have the web designer disappear. We have a storefront so that people know where to find us. Beyond that, we are committed to doing what's right for our clients. Always.
WE BUILD GREAT RELATIONSHIPS
We still have our very first client from 15 years ago, and our clients become a part of our Make It Loud family. We want our friends to win, and we work to that end constantly. In fact, we're very clear that we're not successful until you are!
WE KNOW DIGITAL MARKETING
(So you don't have to!) It's so much to absorb, and we free you up to go and do what you do best – make money for your company, family, and employees. Results are what this is about, so we take that very seriously.
WE WILL GIVE YOU THE TRUTH.
Your digital marketing is about your livelihood. That's why you need people that will always tell you the truth. We have more than once turned away potential clients that had ideas we didn't see as realistic. We simply won't waste your time or your money on things we don't think will work.
AWARD WINNING WEB DESIGN & DIGITAL MARKETING FIRM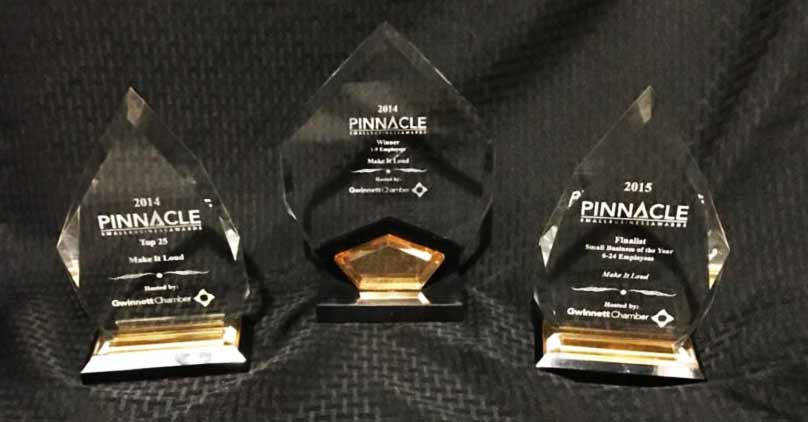 On our 10 Year Anniversary year, Make It Loud was given the Pinnacle Award and Small Business of the Year Award for 1-9 employees, by the Gwinnett Chamber of Commerce!
Make It Loud is honored to do business in Gwinnett County as well as all around the country, and we want to thank all of our clients for 15 wonderful years serving the Gwinnett community, as well as all of its staff, past and present, for all of their hard work.
We're grateful to be the recipients of the Pinnacle Awards as well as all our other nominations! It's validation that doing right by your customers is just the right thing to do. We appreciate the Gwinnett Chamber of Commerce for honoring us with this award, and for supporting our business every step of the way!
Website Design Services
In a day where the internet and digital marketing have become the dominant force for business growth, websites have become a necessity for small business owners to remain competitive. But, here are some startling facts:
Nearly half of all small businesses don't have a website or any web presence whatsoever.
The average time people spend online is approaching nearly 7 hours a day

So, the real question is, if you don't have a strong online presence and your competitors do, guess who gets the business?

We provide affordable, professional website design services. But, we're clear that building a great website is only the beginning of your digital marketing. Once you have a great website, we can help you with a variety of ways of getting that site in front of more people. With more than 15 years of experience, we're the web design agency that business owners all around Atlanta and the South have turned to for help establishing a professional online presence.

Our goal is simple: to get your business more: more clicks, more traffic, more calls, and more business.
Couldn't your business use more?
There are plenty of web design companies in Georgia to help you grow your business, but few will help you as affordably as Make It Loud. Let our experience work for your business.
YOUR BUSINESS WEBSITE IS YOUR DIGITAL FRONT DOOR
When it comes to digital marketing, it's very easy to get overwhelmed- especially if you have no idea about how the Internet works. One thing is absolute, however. In your business, you solve a specific set of problems, and people are looking for the very solutions you provide.
Think of a business website as a brick and mortar store complete with an address. The biggest difference is customers and clients can walk through your doors from anywhere in the world. This can greatly benefit your business since there is potential to reach millions of people who most likely never knew anything about you or the services you offer.
Even a simple five-page site can identify your brand, establish an image, detail your services, provide history about your company, and give customers a simple and direct way to contact you by email and phone. Not only does it show that you're a legitimate company, but it will also increase your credibility.
Your Website Needs To Work For You!
These days, anyone can build their own website (and we get calls and clients who have tried), but building a website isn't just creating something pretty.
Not only does your website need to be attractive to your target market, but it needs to be functional in every way. Your site needs to provide a great user experience. Here are some basics that every site needs. A well-designed website needs:
To look great on all mobile devices
Have a responsive design
Have a strong call to action (CTA)
A content management system (for easy editing)
To focus on lead generation
These points represent the bare minimum of what every site needs. These days, we're getting more calls for eCommerce websites since more business owners are pivoting their business online. We make that process simple.
Once you have a great website, then it's time to develop an effective digital marketing plan. We provide more than just web design services, we can help you get your site in front of your customers as well.
WEB DEVELOPERS THAT DON'T TAKE HOSTAGES!
Believe it or not, there are web design companies that hold you hostage. They tell you that it's your website, but you can't make changes, you can't edit anything yourself, and if you stop paying them, the website goes away.
We don't believe in renting your business website. Since we started the company, we've always encouraged business owners to own their business domain and get a website that you have not only full ownership of but full access to. This is why we only build WordPress websites and turn the keys over to the owner when we're finished building them.
At Make It Loud, it's our process to launch your new website and schedule a training session where our website designer teaches you how to manage and maintain your own business website. We have an option where we'll do all that for you, but we are firm believers that it's your business, so you should have the ability to change whatever you want on your own website.
OUR WORK MEANS MORE BUSINESS FOR YOU!
We get a lot of calls from people who say their sales staff are embarrassed by their company's website because it's so old, dated, etc., but let's face it, having a great website is just the beginning.
Not only do we have the expertise to build your company a conversion-friendly website, but we are experts in helping you market your business as well.
We provide search engine optimization (SEO), Google Ads, Facebook Ads and a variety of other digital marketing services to help put more money on your bottom line. We're successful only when you are.
WHAT YOU NEED BEFORE YOU "SEO" A WEBSITE
Believe it or not, there are a lot of SEO companies around Atlanta and elsewhere who don't actually take this first step. Doing SEO or optimizing a website begins with having an attractive, technically sound website. In the old days, you could actually get an ugly website to the top of the search engines, but those days are long gone.
In fact, we won't take on a client for SEO if their site isn't good. The reason is simple. If there are significant problems with the website, we won't be able to get it to rank well. Why would we take on a project that we know is doomed to fail? That's just bad business. We've refused a lot of clients who requested SEO services, but when we do, we tell them point-blank to not pay anyone to optimize their website before fixing the problems on their site first.
SEO & Make It Loud
Make It Loud – an SEO company in Buford GA started working with small to mid-sized business owners back when the Yellow Pages was an actual book and people were still saying the Internet was a "fad". In that time, we've grown from a small web design firm to a full-blown digital marketing agency.
More than 11 years ago now, we started working with clients to help them get on the first page of Google with SEO. For the first 5 years, we had to explain what search engine optimization was, but now, it's more of a mainstream term.
These days, we are working with clients all around the country to help them get ranked. Through the magic of the internet, we can provide high-quality SEO services for any business in the country. That being said, most of our business comes from around Atlanta, but we have happy customers throughout Georgia in Augusta, Savannah, Columbus, Macon, and Athens. We work with companies in South Carolina, North Carolina, Florida, Alabama, and Tennessee as well.
If you're ready to get your business more- more clicks, more leads, and more business, call the staff at Make It Loud and let's talk about how SEO might be right for you.
SERVING OUR LOCAL COMMUNITIES!
Make It Loud has been serving small businesses all over the Atlanta area, and around the United States for more than 15 years. We'd be honored to help you with your digital marketing strategy. We serve all the towns in the Atlanta Metro area. Reach out and give us a call!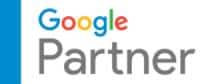 Address:

2828 Buford Dr #300, Buford, GA 30519
 Office Hours:
Monday - Friday OPEN 9:00 AM - 5:00 PM
Saturday and Sunday CLOSED