Google rules the search engine world. It's how people find you online, and people using Google will read what other people say about you. Over 97% of people searching online have read a Google review.
Think of your own search habits. Admit it. You've checked out the reviews. We all have. So why do so many business owners ignore this aspect of Google? We're about to tell you why you really shouldn't. In fact, we'll show you why paying more attention to this aspect of your business will actually lead to more business.
You didn't go into business to hide from customers, so it's essential that you are front and center when people are searching for your business or what you do. Getting great reviews from satisfied customers is great for boosting your online presence.
While there are plenty of review sites out there where potential customers can find you, we suggest you pay the most attention to Google My Business.
Google My Business: A (Very) Brief Primer
With nearly 2 billion users, it's highly likely that you have a Gmail account somewhere. You have to have one of these in order to establish a Google My Business listing.
What's a Google My Business listing? Simple. It's free space on the internet that Google gives you where you can advertise your business. All you have to do is fill. out the information completely on your business profile, add some images, get verified and for the most part, you're all set.
Except, there's more to it than that. You knew there would be.
Google wants you to actively use this piece of digital property. They love it when you and your customers interact with this platform. In fact, Google My Business has its own ranking algorithm and your level of activity is a ranking factor on how often your listing is displayed.
One of the ways your customers can interact with Google My Business is to leave reviews for your business. In turn, how quickly you respond to these reviews matters as well.
Learn more about how to use Google My Business.
Why You Need To Get More Reviews On Google
For some business owners, it may seem a bit like pandering to your crowd, but the reality is there are a lot of rock-solid reasons to put a system in place to get customer reviews. Here are top two favorite reasons:
Boost visibility
Having a lot of positive reviews is an excellent way to get Google to notice you. Simply put, getting reviews is a ranking factor.
The search engine pushes up businesses that have large numbers of favorable reviews. A high number of ratings shows your business is engaged with customers, something Google loves.
No one knows all the ranking factors in the map listings algorithm, but one thing is clear- getting more reviews is a good way to get to the top of local searches in what's called the "3-Pack" or map listing. It's even better for businesses that have a bricks-and-mortar location they want customers to visit.
The map pack will show businesses nearby when you are searching. It will include a link to your site, address, phone number, the total number of reviews, and average rating.
Increase conversion rates and social proof
Here's a basic fact: people are more likely to click on a Google My Business listing or website when it has reviews showing. Why? It's the herd mentality. We naturally want what others want.
We all know that someone can tell us they're good, but we are far more likely to listen when it comes from somebody else. Recent research suggests that 84% of people view a Google review the same way they would a personal recommendation.
All of this adds up to people being more likely to click on a site with reviews ahead of one that doesn't. In fact, a site with Google reviews can rank four or five sites lower in search results and still be more likely to receive a view than a site with no reviews. It's like being recommended by a friend.
Do your ratings matter? Yes! It's definitely a numbers game. Here's an example. Imagine you're searching for an electrician in Atlanta and you find these results: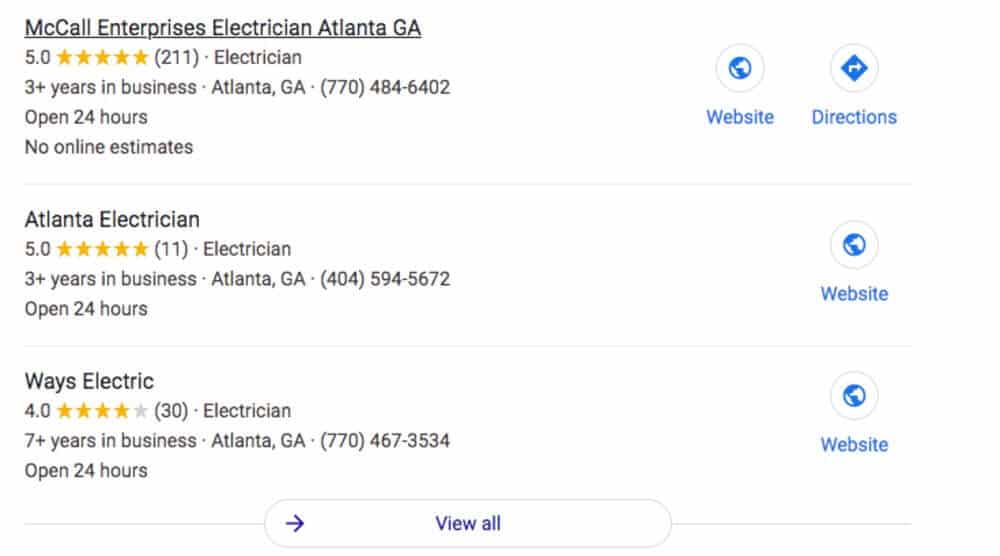 As you can see, the first listing has a 5.0 rating and 211 reviews while the second company has a 5.0 rating and 11 reviews. The third electrician has a 4.0 rating with 30 reviews. Here's where the people bad at math become amateur statisticians. Most people will click on the listing with the highest reviews with the best rating. It's only natural.
When it comes to your website, Google decides when and how it will show reviews, using something called rich snippets. That's why it's vital you have a website set up correctly to display your information in search results. Getting this right will help your organic SEO, especially for local searches. The best part is that reviews are next to cost-free to obtain.
Getting someone to click through to your site is only the first part of the battle. You also have to be able to convert them into a paying customer. Great design and an outstanding user experience on the site play their part, but a string of positive reviews can just about do the job by themselves. Having positive review scores displayed prominently on your site is unequaled in its ability to gain trust. It is a powerful way to boost conversion.
So, you can see that when you get customers to leave Google reviews for your business, you're actually asking them to help your local search visibility. Why wouldn't you do that?
How to get more Google reviews
Now that we've convinced you of the need to get more reviews, there's that little problem of how?
We need to also recognize that there's a bit of a catch-22 here as well. It's not just the quality of reviews but also the number and diversity of sources that count to Google. How can they get more reviews? Especially if you need reviews to attract more business and get more reviews?
It can be here that a business owner might get seduced into purchasing online reviews to kick start the process. The problem is customers can spot a fake review from a mile away. So can search engines, and this will leave your business sitting in the corner of the search results thinking about what you've done. Nobody wants that, so don't even think about buying reviews.
The best method, is as often the case, is the simplest. Ask your customers for reviews. Put a system in place where you ask every customer for a review. It's best if you can ask while they're clearly happy customers and it's even ok to put multiple requests in place.
Email blasts and advertising your review page are also effective ways of generating genuine reviews from customers. Having a base of authentic reviews will provide a solid foundation for building a business for long-term success.
What Do I Do About Bad Reviews?
It's no secret. There are some really bad customers out there. Some customers, you simply can't please.
If you're in business long enough, you will get some negative reviews. Sometimes, these reviews serve as a wake-up call for your company. You messed up and you need to get it right. It's best to own it, learn from it, and move on.
You should respond to all your reviews- both positive and negative. Responding to the positive ones gives you a chance to return the love with a "Thank you" and some other nice detail about the customer. Responding to the negative ones gives you a chance to let future customers know how you handle negative feedback, so be careful. Be honest and sincere, but most people want to see that you made an effort to address the problem.
Don't spend your time worrying about if you'll get a negative review. Put a system in place where you can absorb it if it happens. Again, it's a numbers game.
If you have a five-star rating but only have 3 reviews, you can do the math and quickly figure what a single 1-star review will do to you, but if you have 211 reviews like the electrician above, you can take a 1-star hit and not see any real damage.
Should you use a review management tool?
Asking for Reviews can feel like a time a consuming process. Then replying to them when they start rolling in can also feel burdensome, but it doesn't have to be.
A review management tool can simplify the whole thing for you and give you back your time. Automating email requests for reviews will definitely save time.
While there are pros and cons of using review management software (and there are a metric ton of them out there), Google has made it clear that if you use a software that provides what's called a gated review process (where negative reviews come to you, the business owner, to address and positive reviews get posted straight to Google, this violates their terms of service. What's the penalty for violating these terms?
It could be as extreme as Google could pull a hefty number of reviews down from your listing. That's been the threat. We haven't seen that happen though. It could be Google just doing some sword rattling because there are still these types of reputation management software tools out there.
Conclusion
Google reviews increase trust in your brand, drive local SEO, and boost conversion. Google reviews are free, providing a massive ROI. A little time and effort into getting them started will see results for your business.
In a very short time, Google reviews will by driving more leads to your customers. These will be customers who are more inclined to purchase from you due to Google reviewers recommending you.
That is a lot of power for a simple task. If you're not using reviews, you leave money on the table. They can be the building block to the long-term success of your enterprise.