Examples Of Epic Social Media Fails
Have you ever been embarrassed for a company that releases a simply terrible social media post or, even worse, a not-funny ad that is so off that you don't get it or even know what company released it? There's no doubt that companies spend a lot of time developing advertising and, most of the time, at least some message gets through, but it's not always the best.
We spend a third of our time online on social media. We've all seen the good, the bad, and the "I can't actually believe what I'm seeing right now" moments. We also know that social media has become a mainstay of your marketing mix, and while it's possible that only 2% to 6% of your followers see your posts on Facebook if you have a lot of followers, that's still ample room to make some gigantic mistakes with your posts.
Let's avoid that. We've done the work to collect some of the most epic fails in social media marketing over the last few years. Here are examples of what you do not want to do. Let's also talk about how to protect your brand from a mistake like this.
Check out these examples of social media mistakes you don't want to make.
SnapChat Creates "Would You Rather" Fail
The "Would You Rather" jokes out there tend to involve some pretty crazy things (and often imply far-off scenarios that should bring a smile to a person's face. That's what a joke is, right?
In one instance, SnapChat posted a "Would You Rather" message that really turned heads. It said, "Would you rather slap Rihanna or punch Chris Brown?" During that time, there was significant questioning about abuse and violence between the two well-known stars. The joke was poorly received.
When trying to tap into the various feuds and games that often play out on social media, get someone to check your work and then have someone else do it as well. Controversial topics and stories like this that impact a person's safety (and like that of some of your customer base, too) shouldn't make it onto your social media platforms.
With the progression of social media, not all PR is good PR.
Chase Makes Patrons Feel Pretty Bad on Motivation Monday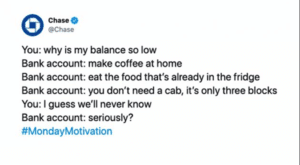 Here's one example of not understanding your customers well. Chase released a poem in 2019 as a #MotivationMonday post, meant to encourage people. Yet, the end result was that it felt more like the bank was chastising its customers for making poor financial decisions. Take a look:
This is a very good example of how not to know your customers. When creating social media marketing posts, be sure you know how that message is going to come off to your customers. Are you helping, motivating, or insulting?
Chick-Fil-A's No-Alaska Move
Here's one that may cause you to wonder about the grades the social media poster got in basic elementary school. Chick-Fil-A responded to someone that posted a question on their social media asking the company to open a restaurant in the North Pole, Alaska. The company may have thought it was a joke, but in fact, this really is a city.
The company responded directly to the poster, saying it had no plans to expand beyond North America. Let's join hands and collectively say, "D'Oh!"
Responding to interactions with customers online is really important for increasing engagement. Yet, companies need to be sure that when they respond, they are making accurate statements and, more importantly, having someone else double-check their work (you know, like in grade school).
IHOP's Embarrassing Rebranding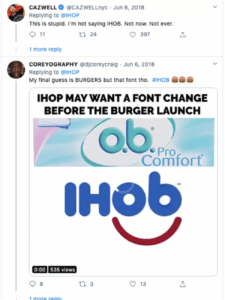 If you're going to make a joke in the hopes of giving people a good laugh, you have to actually make sure it has some sense to it. IHOP learned this in 2018 when it was trying to release an April Fool's Day prank on its social media accounts. It stated it was rebranding itself from "International House of Pancakes (IHOP) to "International House of Burgers (IHOB)."
Do you get it? Did you laugh a bit? Probably not, and no one else did either. Take a look at this social media follower's advice to the company:
It's likely the case that social media jokes like this are going to fail, after all, when people don't get them. What you don't want to do is to have an epic fail like this turn into a complete embarrassment. In a situation like this, it may be best to do some market research to best understand what your followers think of you. Don't leave people scratching their heads wondering if you've been hacked….or just whacked.
Dolce & Gabbana's Insult to Chinese People
One of the worst types of social media fails are those that insult others. Most of the time, the company behind them isn't actually trying to lose followers by slamming other ethnic groups, but Dolce & Gabbana managed to do that (and lose a lot more) with a specific ad they posted.
The company posted an image of a Chinese woman eating Italian food using chopsticks. How this relates to their brand, we're not sure. However, the ad hit the wrong way, insulting Chinese people and leading to a media backlash. Ultimately, the company lost its Chinese fan base and had to cancel a Shanghai show they had planned. Several stores even dropped the brand.
Our advice here is pretty important. If you are going to post any type of ad on any social media platform, don't be racist in any way. It's just not going to be okay to do. Don't make fun of any culture. Instead, try a positive message instead of one that's downplaying other groups. As the Shanghai show told the company, this fail shows the company "has much to learn."
Wendy's Argues with Customer in Tweets
Wendy's is well known for their snarky tweets, and a lot of the time, the snark actually works in their favor. But, there was that one time…
In January of 2017, Wendy's posted an ad on their social media stating that they had beef that was never frozen. The ad itself isn't a bad thing and could have worked well for the company. Except, that's not what happened. Instead, a Twitter user responded, stating that the company wasn't actually using fresh meat. Instead of letting it go, they responded, and an ensuing fight occurred in the comments between the company and the poster.
No matter if Wendy's was right or wrong, they created an intense argument that ended up leading to a pretty bad situation. That's because Wendy's eventually replied with a version of Pepe the Frog. Whether or not they knew what they were posting isn't clear, but most people know that the iconic mascot is not associated with racist sentiments, creating a PR problem for Wendy's.
In a situation like this, it's often best not to respond in a way that's going to create problems. We could dare say that if that responder's comment didn't get the attention and response from Wendy's, it probably would have faded off into oblivion. But, in this situation, not only did the company create a war that drew attention to it in a way that made others question the company's truth in advertising, but they also responded with a meme that is racist. That's going to create a very difficult situation for all involved.
The main lesson here is never to get into an argument online. We've seen it on social media and we've seen it with reviews on Google Business Profiles. Just now that every time you respond to a review, it's not for the person that wrote the review. It's for the potential customer who may read it down the road.
And, that, ladies and gentlemen, is why you never get into an argument online. You will always lose.
Horrible Taste Trying to Get the Clicks
In 2015, BBC's Ahmen Khawaja sent out a simple tweet reading, "Queen Elizabeth has died." We all know that's not the truth. Sure it could have been an error on the reporter's part, but it also was likely due to just wanting to get some clicks.
The alert about the Queen's death was sparked by her visit to a hospital. There's no reason why the BBC's Khawaja could have gotten inside intel about this.
The point of this mistake is – to verify your facts and, when it comes to sensitive matters like this, think twice. Sure it's great to be the first person to tweet something interesting, but when you don't have the facts, or in this case, they could be very hurtful to people, step back. It's just in poor taste.
These social media fails can be costly to organizations because they not only provide inaccuracies and, sometimes, racially charged content, but a simple mistake like this can hurt the hard work you've put into building your brand.
It takes years to build your brand, but only seconds to damage it. Use the lessons above to better consider your social media posts. Better yet, contact the staff at Make It Loud, and let us help you with not only your social media marketing but all your digital marketing.