Are You Optimizing Your Google Business Profile?
If you're marketing a small business, claiming your free Google Business Profile was hopefully one of the first things you did (although we know a lot of you out there still haven't!). But, have you really worked to optimize this free tool? If you're like most businesses, you're probably ignoring a few critical things that may help bring your organization's digital marketing effort to the next level.
What is a Google Business Profile?
First, let's dive into the basics of what a Google Business Profile is. Formerly known as Google My Business, your Google Business Profile is a free tool that helps manage your organization's information, promotions, hours of operation, contact information, and more on local search. Creating this business page is essential for gaining visibility on Google tools like Google Maps and Google Search for your customers, who are increasingly using mobile search to find local businesses.
Your Google Business Profile is a central hub where all of your organization's essential information exists, making it easier for customers looking for your business (or one's like it) to find you online.
Think of it as a mini-website. If your website is your digital front door, your Google Business Profile is a very busy, interactive welcome mat.
How to Set Up Your Google Business Profile
If you haven't already, let's talk about how to claim and set up the basic components of your Google Business Profile.
First, you need a Gmail account. If you're one of the few people left on the planet without one, that's ok. They're free. Go sign up. You can't get a Google Business Profile without that.
Once you're all logged into your Gmail account, open a new tab and google, "Google Business Profile". Click on the first link and follow the prompts to fill out all the information about your business.
There are a few things to keep in mind when signing up. For instance, if you're a service-related business where you go to them (i.e. a plumber, roofer, HVAC, etc.), you don't want to list your business address unless you have an office where customers can come see you. Obviously, if you have a bricks-and-mortar location, fill out your address completely.
There's also a verification process that either requires you to verify who you are via text or through a postcard they mail you that will have a code on it. This can take several days to get, but you can still fill out some basic information about your business. It just won't go live on the internet until you get verified by entering that code.
Sometimes, you can simply google your business name and you'll find a listing already there for you.
Claiming A Google Business Profile
Once signed in to Gmail, you can search the name of your business to claim it. Next, you'll verify some basic information about your organization, then – once verified – you can begin accessing all of the free tools Google has to offer through your profile page.
Start Adding Your Business's Information & Photos
If you haven't added your business's location(s) yet, you can do so quickly and easily in the main section of the profile page. This is also where you'll be able to add contact information like emails, phone numbers, and addresses. You can also add or change hours of operations, which will appear on both your profile page and Google Maps for increased visibility.
What You're Probably Not Doing (But Need To!)
Now, claiming the profile and adding basic information is where most business owners stop when it comes to their Google Business profile (GBP). However, there is so much more that can and should be done to increase your page's visibility. So, if you're not doing any of the following five things, it's time to get started!
Ask For And Respond To Reviews
You may already understand how important reviews are, but engaging with reviews on Google is extremely useful. For one, Google states that doing so will help increase your page's visibility. There's an entirely different algorithm associated with how GBP listings are displayed.
Responding to reviews shows future customers your personality and demonstrates your commitment to customer service. People read reviews and want to see how the business responds – it shows them what they can expect if they do decide to use your services.
People often ask, "Should I respond to both good and bad reviews?" The answer is absolutely! If you're in business long enough, it's likely you'll make a mistake or you'll eventually encounter a wingnut who will likely use the internet to work through his or her extensive family of origin issues.
Responding to negative reviews is important because A) Google wants you to respond to ALL reviews and B) Future customers want to see how a business responds to negative reviews. Remember, you're responding to both the person who left the review and your future customers. It's important to respond appropriately and hopefully, in a way that won't get you featured on CNN.
If you made a mistake, it's probably best to own it and offer a way to resolve it. If the person wasn't a customer, nicely respond that you have no record of doing business with them. However, you respond, keep in mind that the person leaving the review will get an email with your response, so you want to do what you can to avoid a public war with that person.
The bigger issue here is that many, many businesses don't see the need to either ask for reviews or respond to them. This is a huge mistake for several reasons.
First, you're kidding yourself if you think people don't read reviews. We all do. It's become part of how people decide who to do business with.
Second, the more positive reviews you get, the more of a conversion issue it is. For example, we recently did a search using "Plumber near me"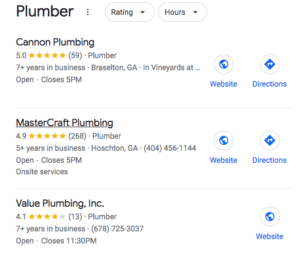 Based on the reviews, you see the middle one has the most reviews and a solid positive rating. So, who would you call? Thinking this way, you can see how Value Plumbing will rarely get the call when matched with the other two. This is how getting more reviews becomes a conversion issue that helps drive more business your way.
So, if you get nothing else out of this post, put a process in place where you are asking for reviews and respond to them as they come in.
Set up the Messenger Feature
If you want to increase leads, boost sales and enhance visibility, you need to set up your Google Business Profile messenger feature.
Doing so allows people to message you in a way that is fast and convenient for them – potentially leading to more conversions and sales. In addition, this feature allows customers to talk with you (or a member of your team) directly through the Google Business Profile page, reducing friction between your organization and potential customers.
List Your Service Area Completely
Your service area is the best way to communicate all of the areas you'd like to target. However, in order for this information to be accurate and helpful, you need to list your service area in its entirety – Google allows you to list 20 cities. Unless you have a very sound reason, use them all. Only by doing so can people find you on Google Maps and Google Search.
Post Plenty of Pictures
Like it or not, Google wants to see that you're a genuine business. Posting pictures of your building, staff, signage, and equipment not only proves that you're a real business, but it gives potential customers an idea of what to expect when visiting or doing business with you. It also helps people browse your products and services in a visual sense. Using pictures in your Google Business Profile also shows Google that you are a legitimate company worthy of trust and visibility.
We always tell business owners to use this spot to show before and after pictures, examples of your work, etc. Whatever you might post on Facebook would usually work well here as well.
List All of Your Services
It is truly amazing how often we see businesses not list everything they do in their Google Business Profile listing. At least the majority of your services should appear in your profile so people (and potential customers) can understand exactly what to expect when they work with you. You would hate to lose a lead because they think you don't offer something that you do!
Be sure to use relevant keywords in your descriptions, but remember to always write naturally. We've seen plenty of people write like this:
"Best Plumbers: if you want the best plumber for your home or business, we are the best plumbers in (City). So, if you don't want to waste time with other plumbers, call the best plumbers you'll ever work with because we're the best plumbers around."
Just no. Don't be that guy. Write for your readers.
Post Regularly
Google gives you the ability to post content that you can easily direct back to your website – just like any other social media platform out there. Use this opportunity to post pictures, captions, link back to service pages, show off a new employee, or anything else to keep potential customers engaged. It's a great way to stay top of mind for people who are searching for your services.
Just remember that there is a 1500 character limit, so it's a good idea to set up a link back to your site.
What to Post to Your Google Business Profile
Links to Your Blog
If you write a new blog, add it as a post to your Google Business Profile. The link will go right to your blog – a great way to get more traffic and spread the word.
New Promotions or Specials
If you have a limited-time offer, make sure it's added as a post on your Google Business Profile. The link should point back to your website or landing page so people can sign up.
List New Services or Products
If you're adding new services or products, let people know! Post it as a blog on your Google Business Profile. Not only will it alert people to what you have to offer, but this post can rank in Google and increase visibility for these items.
New Location Information
If you're opening up a new office or storefront, make sure that's posted on your profile. This update not only alerts people about where to find your business, but it will show up higher in Google searches.
Optimize Your Google Business Profile with a Digital Marketing Agency
As a business owner, your time is valuable – and you may not have the time to sit down and learn how to optimize your Google Business Profile. That's okay! As an experienced digital marketing agency, Make It Loud is here to help you get the most out of every part of your online presence.
We don't consider ourselves successful until you are. That's why we put our effort into helping businesses succeed in the ways we know are the most effective – through Google and beyond.
We've been helping businesses just like yours establish and improve their online footprint for more than 17 years. If you're ready for more clients and increased visibility, contact us today.